Tesco Payslipview.
Checking your Tesco payslips online, from home or from your mobile phone, has never been easier. All your questions answered about the Tesco Payslipview system.
Learn how to use the Tesco Payslip website to see your current and past payslips and hours, to find activation codes, or how to change your employee contact information.
This website is intended as a help resource for past and current Tesco employees. Use our guides to learn how to view your payslips, apply for activation codes and receive your P45 and P60.
For the 'Quick Login' guide, see Tesco Payslipview Login.
Tesco Staff members have access to two different online employee portals: Payslipview.com and OurTesco.com. The former provides access to information about past payslips, while the latter is a more general employee portal.
Tesco Payslip View Account Registration.
How do I create a Payslipview.com account?
To register for an account with Payslipview.com, you will need to be a Tesco employee or associate and you will need to have your Employee Number handy. If you are unsure of what your Employee Number is, you should be able to find it on any past payslip, or on the employee card issued to you. It is also on some employee badges.
Go to the www.Payslipview.com homepage and enter your Employee Number in the field that is displayed on the screen, then click on the 'Continue' button. On the next page, you will need to provide additional information, such as your email address. You will also need to create a password, for use with the service in future.
It is important to note that your password needs to be at least eight characters long. It must also contain at least one upper case letter, one lower case letter and one number in order to be valid.
Tesco Payslipview Login.
How do I log in to my Tesco Payslip View account?
To activate your Tesco payslip and p60 online, you must first go to the homepage at www.Payslipview.com.
From there, you will be greeted with a login form, requesting your Employee Number.
Enter your 8 digit Tesco Employee number (located under "address" on your payslip) and click 'Continue'.
On the next page, you will be able to enter the rest of your login credentials, including your password. One thing to be aware of is that you will need to enter an activation code to access your account. This activation code changes periodically, and the most recent code can be found on your most recent Tesco payslip.
Enter the activation code and your date of birth. Then, enter a new password and confirm it, if the system ask for it. You are then logged in to the Tesco Payslip Inbox, where you can view and print payslips, and access your P60.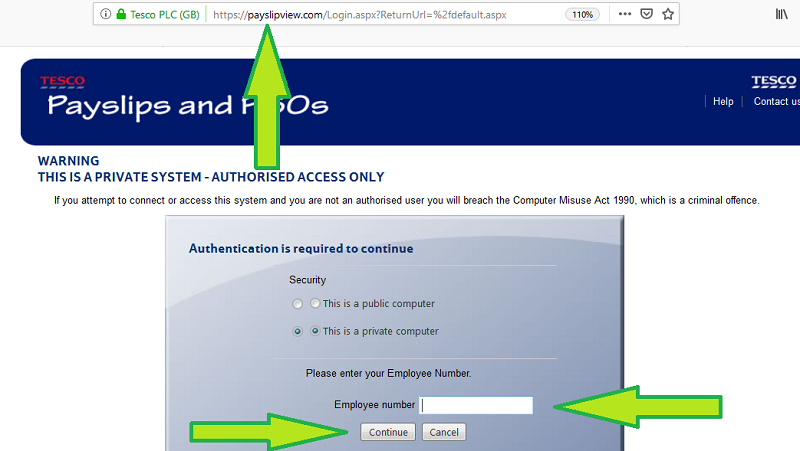 Tesco Ireland employees must log in at www.tescoirelandpayslips.com.
OurTesco.com Account Registration.
How do I create an OurTesco.com account?
To register for an account with OurTesco.com, go to the homepage and click on the 'Register' button in the top right hand corner. On the page that loads, you will need to enter your Employee Number, and select your role from a drop-down menu. You will also need to enter personal details and create a password.
Again, your password must contain at least eight characters, an upper case letter, a lower case letter and a number. Once you have completed the registration form, agree to the terms and conditions, and then click on the 'Register' button at the bottom of the page to complete the sign up process.
Our Tesco Login.
How do I log In to my OurTesco account?
To log in to your account, head over to the main homepage at www.ourtesco.com and then click the 'Sign In' button in the top right hand corner of the page. You will be presented with the main login form, where you will need to enter either your Employee Number or the email address you provided during registration, along with your password.
Once you have entered your login credentials, simply click on the 'Sign In' button underneath the login form. Assuming you entered the information correctly, you should be taken to your account.
Payslipview.com and OurTesco.com Login Problems
Tesco employees may occasionally run into issues when trying to log on to these services. Generally, the best approach here is to run through the following troubleshooting steps, so that you can identify the cause of the problem and also regain access to your account as soon as possible.
The first thing to check is your own internet connection, so try loading another website. If it loads, your connection is not the problem.
Next, you should ensure that you are definitely using the right credentials with the right login page, especially if you have a different password for Payslipview.com and OurTesco.com.
Double check that you have entered your credentials properly, paying particular attention to possible typing errors. Make sure CAPS LOCK is turned OFF. Remember, your password is case sensitive, is at least eight characters long and must have a combination of upper case letters, lower case letters and numbers or special characters, so would may have chosen a different password from what you usually choose.
If you have forgotten your password, you can reset it by visiting: https://www.ourtesco.com/login-assistance/.
If you cannot open the Payslipview.com desktop login page, then try the mobile version at: https://payslipview.com/mobile/
Finally, should you still have issues, your device or web browser may be the cause. Steps you could try here include:
Clearing your cache and browser data before trying again.
Updating your web browser to the latest version
Trying an alternative web browser,  like Chrome and Mozilla.
Attempt to sign in with a different device entirely, like a mobile phone, ipad, home or work computer.
Your Tesco Payslip Explained.
| Tesco Payslip Detail | Detail Definition |
| --- | --- |
| BASIC HOURS | Your weekly contracted employee hours at Tesco. |
| DEPARTMENT | Department that the staff memeber works in at their place of work. |
| EMPLOYEE NAME | Your employee name |
| EMPLOYEE NUMBER | A unique 8 digit unique reference number.  Used with HR or Payroll. |
| HOURLY RATE | Your contracted hourly pay rate at Tesco. |
| HOURS | Weekly contracted hours at Tesco. |
| JOB CODE | The code which has been assigned to your job role. |
| NATIONAL INSURANCE CAT | The rate of National Insurance you contribute, indicated by a letter. |
| NATIONAL INSURANCE NO. | Unique 9 digit code made from 3 letters and 6 numbers., used to record National Insurance contributions as well as credits you have paid or are entitled to. |
| OCCUPATION CODE | The distribution code assigned to your job role. |
| TAX PERIOD | The current tax period or week. |
| TAX CODE | Your personal tax code – This determines your tax rate. |
| TAX REFERENCE | The company reference number, used by the tax office |
| PAYMENT METHOD | Your payment  method, bacs,or cheque. |
| DATE | The date of the end of the current tax period/week. |
Getting Your Tesco P45.
Tesco P45's are be printed out the following week after an employee has left the company, and then mailed to you by post.
Irish Employees: In 2019, as well as in the future, Tesco employees will no longer get a papaer P45, when they leave a Tesco job. Tesco will record the leaving date and final pay including deductions into Revenue's system and employees can then access their P45 details through Revenue's "myAccount".
Tesco Employee Discounts
Tesco employees are provided with a range of employee benefits, including staff discounts. After six months of service, employees are eligible to receive a 10 percent colleague discount, which can be used at any Tesco store. Meanwhile, a Retirement Savings Plan matches pension contributions of up to 7.5 percent.
Other colleague benefits include sick pay, maternity pay and holiday pay.
You can find out about all employee benefits by visiting: https://www.tesco-careers.com/explore-our-world/benefits/
Tesco Payslipview HR Contact Information
If you need to contact the service team behind the employee portal, send an email to: [email protected].
Further useful contacts can be found by visiting: https://www.ourtesco.com/useful-contacts/
For activation or reactivation code requests for Payslipview.com, contact the Online Payslip Helpline on 01462 652 397 (or ext: 7891 65397). This line is available between the hours of 8am and 5pm, Monday to Friday. Alternatively, you can email the customer service team on [email protected] and request this information.
For all other queries related to payslips, P60s or the website itself, please contact your Line Manager or send an email to the following address: [email protected].
About Tesco.
Founded in 1919, Tesco is the largest supermarket chain in the United Kingdom, by market share, and one of the top ten largest retail companies in the world, in terms of revenue. In total, the business employs close to 500,000 people, while its shop portfolio exceeds 3,000 stores, including Tesco Extra, Tesco Express and Tesco Superstores.
Tesco PLC Address.
The official Tesco Main Office address is:
Tesco House
Shire Park, Kestrel Way,
Welwyn Garden City,
Hertfordshire AL7 1GA,
Britain
www.Payslipview.com Feedback.
Share your experiences, questions and complaints about the Tesco Payslipview website, in the comment section below.